Your written proposal is a key element of a successful sales campaign – so it's crucial that you submit truly first-class documents for each opportunity you pursue. But are your proposals always better than those of your competitors?
---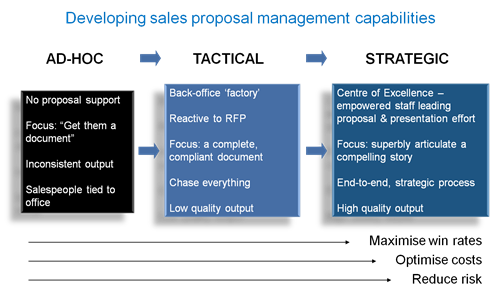 Are you confident of success in the 'must win' deals on your pipeline? Are you cutting through the noise level and ensuring that your message is heard? Are you proud of the way in which your sales proposals represent your capabilities to the outside world?
Is proposal generation a catalyst for high-quality teamwork and outstanding creativity? Is your bid process extremely efficient and understood by everyone involved? Or is developing proposals a struggle - characterised by latenight working, fraught nerves and last-minute panics? Perhaps it's time to stand back and look at the way proposals are produced, rather than accepting that "this is the way they've always been done"?
Whether you need to transform your proposal development capabilities from 'run-of-the-mill' to world-class - or to hone the skills of an already high-performing proposal organisation -
Strategic Proposals can help.
---

Share Resources, Collaborate & Connect
---
Other Services